Veda's Journal of English Language and Literature (JOELL)

Veda's Journal of English Language and Literature (JOELL)

 

is an internationally acclaimed peer reviewed (refereed) open access Journal that welcomes original contributions exploring and highlighting issues in the broad areas of English, language, linguistics and literature. The journal provides rapid publication of its articles published quarterly by VEDA Publications (p) Ltd. both in print and online versions. The journal is free to access from any corner of the world. Unique in the range and quality of its coverage, it attracts contributions from leading scholars worldwide on the language, literature and culture of the English-speaking world from the Anglo-Saxon period to the present day. The online version is free access and downloadable.
SCOPE OF THE JOURNAL:

 Veda's Journal of English Language and Literature (JOELL) invites papers in the field of English Literature, linguistics and culture studies. Published quarterly, the journal invites research papers, review articles, short communications, book review in all aspects of English literature including comparative and modern literature, creative writing, language methods, language research, analysis and applications, methodologies, English teaching, theory and practice, literary studies, linguistics, special languages, cultural studies, materials development and evaluation including all relevant fields. 
Registered with the registrar of Newspapers for India, RNI: APENG/2019/78184
Frequency:
JOELL publishes articles quarterly [JANUARY / APRIL / JULY / OCTOBER ]

Both in Online / Print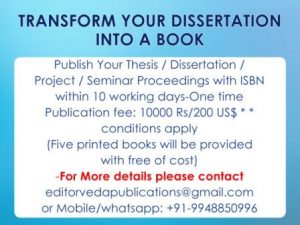 Send your articles to: editorjoell@gmail.com
Types of papers we Accept :

1. Original Research Articles
2.Super Express Papers: Research Article Needs to Publish within short period (2-3 days after submissions)
3.Review Articles
4. Short Communications
5.Case Studies
6.Letters to the Editors and book reviewers
7.Abstracts/Full Papers of Seminars and symposia will also be considered for publications
FOR SUBMISSION OF MANUSCRIPTS 
Submit manuscripts as an E-mail attachment to the Editorial Office @

  editorjoell@gmail.com / joelleditor@gmail.com

A manuscript number will be mailed to the corresponding author same day or within 72 hours.Please read the Instructions for Authors before submitting
your manuscript.
NOTE: The submission must not have been previously published, nor should it be under consideration for publication elsewhere. We also have a strict policy against plagiarism. The plagiarism is checked through two methods: reviewer check and plagiarism prevention tool. All submissions will be checked by online software before being sent to reviewers. Editor in Chief having the right to publish or reject the article in pre or post publication.
Journal Key Words: Journal of  English Literature ,Online/Print Journal, Linguistics Journal, ELT Journal, Peer reviewed (refereed) Journal,International Journal of English Literature, Indian English Literature Journal, Online English Journal, Indexed journal, English Language Journal, English Journal With Impact Factor

joell.in by VedaPublications is licensed under a Creative Commons Attribution 4.0 International License.
Based on a work at http://www.joell.in.
[metaslider id=456]

VOLUME 9, ISSUE 2, 2022
Click on this link to access more papers of the current issue
VOLUME 9 , ISUUE 1, 2022
Click on this link to access more papers